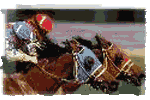 Horselawyers.com is an exclusively equine law firm and referral site sponsored by the Law Offices of Bing I. Bush, Jr. The purpose of this web site is to introduce you to our firm, and also to serve as a referral tool for clients to access other equine legal counsel where appropriate in Kentucky, California, nationally and internationally. We have included some forms, articles and links that we hope will be useful to you and help you get the best out of your equine experience.

With offices in Lexington, Kentucky and Del Mar, California, we represent clients in all equine transactional and litigation matters. More details on our areas of practice can be found by clicking here.
Cases are taken on an hourly basis, project basis, or contingency basis depending upon each client's individual need and the nature of the work involved. For questions or referrals, feel free to contact us at either of our offices or by email.